Question?
Are you planning on leading a team anytime soon? Becoming a business leader? Team leader? Family leader? Perhaps you are already in the leadership thick of things as you read this post and are feeling a tad desperate.
Let's begin with agreeing on one salient point. The kinetic energy that accompanies your becoming a leader can be exhilarating! Successful leaders have an instinctual desire to help others. To set the table for others to succeed is rewarding in and of itself. Being promoted to a position of leadership is a great honor.
The first caveman who brought fire to his clan likely took the time to give himself a pat on the back during a quiet moment as everyone enjoyed the warmth and comfort of his gift.
When asked to expand my role as Director of Fundraising / Marketing to Interim Executive Director at a small not- for-profit agency that had been deep in crisis, a part of me was thinking, "No way!" but the leader inside of me was thinking, "Yes, of course!". I had only been with the agency for 8 months but I wanted to bring fire to my clan no matter how unwelcoming the team was to my promotion.
So back to you. Congratulations! You are now a CEO, new district manager, team captain, father or mother.
Almost everyone will pat you on the back. Congratulate you, wish you the best. Some will promise complete buy in. Some, not so much! Some want to sail with you…some are torpedo captains and they may have you in their sights.
Once the dust settles a series of realities will hit you!
First, you have taken on a great, vast, pressurized responsibility.
Second, for all that you thought you may know about leading a team, you actually don't know that much. Sure, you have been mentored, you have a great set of parents who served as great role models through your life or you have been the assistant coach behind a legend and learned as much as you possibly could. That is not enough. Yes, it is the foundation of what sustains a soon to become great leader, but in the outset, it is nowhere near enough.
So what can you expect? What should you know? It all begins with Trust.
Trust
You may begin with a grade of A+ by virtue of your being the new boss, but that will change and if you do not work to earn the team's trust, you will be quickly be facing a failing grade! You cannot inherit trust. Trust is not built overnight. To gain trust, a leader must be willing to go the distance…a leader must be genuine. Trust lies so deep within our being and the physiological response to giving it someone or having it betrayed is powerful! You can't please everyone but by leading with integrity and professionalism, you can be trusted by everyone. The team may not agree with some of your decisions but they will follow thanks to the credit you have earned with them.
It's a Marathon!
Any seasoned leader will tell you that there is no eye opening, eureka moment confirming you have figured things out. In fact, if you think you have come to one of those moments… if you think you have figured things out…get set for a big wake up call. You won't decipher some secret leadership code and sail down easy street for the rest of your career! It is a marathon! The goal is the destination with a focused energy on overcoming the inevitable challenges that lie ahead. All NHL teams want to win the Stanley Cup but not one team on the circuit goes into the season without breaking up the schedule into manageable chapters with attainable goals. Winning 3 of 5 versus winning 55 of 82 is far more manageable. Be prepared to go the distance.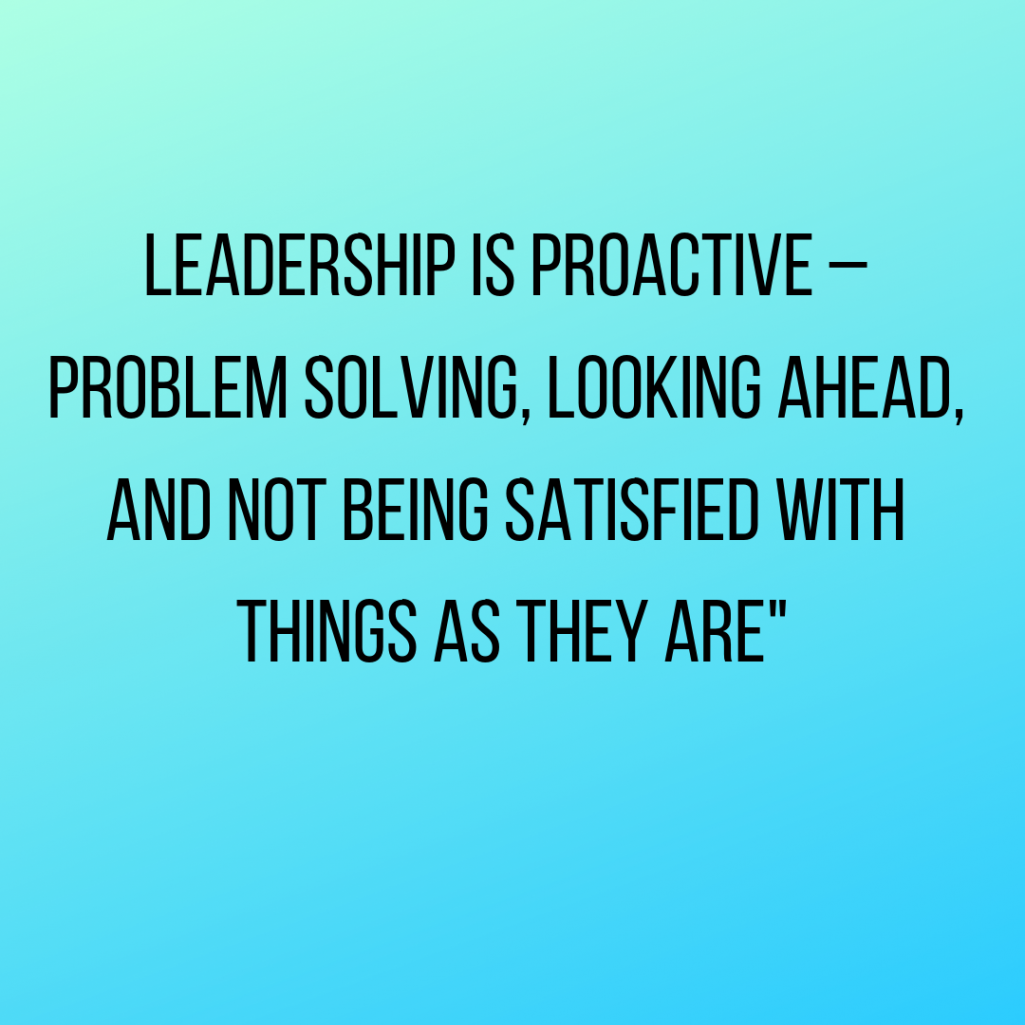 Communicate, Collaborate And Conquer!
If you get the chance to attend an elite level team sporting event, take a moment, close your eyes and just listen. Listen to the back and forth chatter! Any team that has its sight set on conquering the competition must be able to work as a collaborative and if memory serves correct, all great collaborations are founded in great communication.
Silence is deadly!
Silence leads to speculation and assumption. Talk about taking the expressway to creating negative space and courting inevitable failure! Communication and collaboration is all about getting on the same page. If the entire team is on the same page the odds of success increase significantly. The first thing I teach aspiring quarterbacks, running backs and receivers at my football academy is that the most important time during the game is the 25 seconds between the play being called and the snap of the ball and knowing what everyone else is doing on that play. Being aware of how the pieces fit and how dependent they are on one another. By being on the same page you will be able to run the play with a high degree of competency and should the defense line up in a manner that would be detrimental to the play called, the quarterback can audible out of the original play and introduce a new play that will set them up to succeed. That same page, high level of competency allows a team to dictate terms. Staying a step ahead of the competition is the key to success. Sure, some teams that get lucky may win the odd time but those victories are few and far between. Syncopation equals success!
The Value of Time
Time is the most valuable commodity that we own regardless of where we are positioned on the hierarchical ladder at work. As a team leader never lose sight of the fact that people are spending a significant amount of their time at work. Yes, they get paid to do so but taking that for granted is a major leadership misstep. Some need the work, some love the job, some see the gig as a stepping stone to greater things. No matter the circumstance, being mindful of your team's contribution from the perspective of time is crucial. If you want your team to go the extra mile, to put in the extra time…appreciate and value the investment from the perspective of time. Thank them for their contribution. It's an investment that offers a high rate of return.
Ken Evraire is an award-winning leadership coach and team builder. As a former professional athlete, he has learned a from great coaches and learned even more from the bad ones!
To contact Ken email him at ken@kenevraire.com.