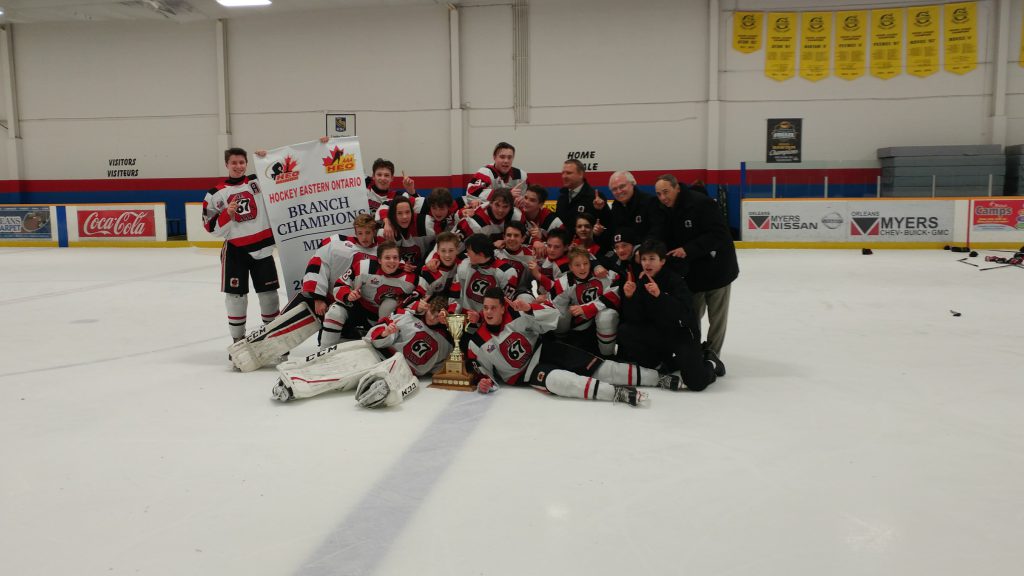 There are many moments when I am amazed at the transformation a team can experience by simply buying in. I have seen it in the boardroom. I have seen it in career transition seminars.
And now I have seen it in the Ottawa 67's AAA Minor Bantam hockey team. Now, getting a room full of teenage boys to focus for any length of time can be challenging, to say the least, but this team was destined for great things!
Head Coach Jim Cooke gets it! He understands the value of building the team and he understands that bringing a new voice to the locker room was the key. I signed on for 5 sessions, scheduled through the season. They were a very good team that could become great with a little help.
I spoke to them about incremental growth, focus, the finite difference between winning and losing and the knowledge that it isn't about their opponent but rather, it was all about them and what they do. They would reap what they sow…guaranteed!
Tonight, they face the best team in the league in a do or die playoff game that will reward the winners with a trip to the semi-finals. The losing team would be done for the year.
Like the Grey Cup Champion Ottawa REDBLACKS, the 67's had an up and down regular season.
The REDBLACKS were underdogs going into the championship game against a Calgary Stampeder's team that went 16-2 during regular season play.  But they prevailed. Here is a link featuring the day before the championship game clips. https://www.youtube.com/watch?v=pWMqKHSN7lo&t=65s
The focus was on the REDBLACKS being a team that had overcome challenges during the season and were battle tested, unlike the Stampeders. I asked them about the Stampeders not being punched in the face all season (literally and figuratively). They had not faced adversity like the REDBLACKS.  Talk about a fun study of quiet confidence in an athlete and a team!
The 67's had 6 games left in the regular season. I showed them this video and I challenged them to go 5-1 and become the most dangerous team heading into the playoffs. I wanted them to become the team that no one wanted to play.  They re-focused, promised an incremental improvement in their individual game that would benefit the team and guess what. They went 5-1 over their final 6 games.
They eliminated the Ottawa Senators AAA in semi-final play and then overcame the Ottawa Valley Titans to win the title.
Congrats to the boys and the coaching staff on a job well done!
Ken Evraire is an award-winning leadership coach and team builder. As a former professional athlete, he has learned from great coaches and learned even more from the bad ones!
To contact Ken email him at ken@kenevraire.com.
To learn more about Ken, visit his website www.ken
evraire.com or visit him Facebook https://www.facebook.com/kenevrairedotcom/ or on twitter https://twitter.com/kevraire17