I never imagined wearing a lobster suit would turn out to be a game changer for me but it did back in 1989!
Fast forward 32 years later, and I sit amazed after booking my 500th gig!
Not sure why booking the presentation struck a sentimental cord with me but it did. Maybe it has to do acknowledging the power of a leap of faith I took 32 years ago! Maybe it has to do with my being 55 years of age, the changing of seasons or watching my kids grow up faster than wheat in Melville, Saskatchewan.
Worth noting, Melville was named for Charles Melville Hays, former General Manager of the Grand Trunk Railway which, if you know your 1970's music, inspired the name of one of the greatest bands ever, Grand Funk Railroad. How is that for a water cooler fact!
Okay, lets get back my getting all sentimental! I believe it has to do with my sitting down and thinking back on the presentations that stuck with me through the years, presentations that stood out for a number of different reasons.
Presentations that captured the audience on a level I did not necessarily anticipate. 
I always loved presenting to groups of inspired individuals and coaching people up. 
Back in 1989, as a member of the Ottawa Rough Riders, I was often called on to host or attend events the organization would run or support. My boss at the time, Jo-Anne Polak, the only female GM in professional football and considered to be a marketing genius, decided the team should host a marquee fundraiser.
With her roots in the East Coast, it made complete sense to host a lobster dinner.
Great idea? To be honest, it was a good idea but to suggest it was great would have been a stretch. So, the team was going to host a lobster gala. The story doesn't stop there.
In addition to the team hosting the fundraiser, she suggested I serve as the event emcee in a bid to add to the evening! I said yes and I did so knowing I was not going to get paid! Yep, no pay, which to be honest, I was okay with. Jo-Anne had become my official supplier of free game tickets so as gamblers say, her ticket supply and my working for free was a push.
The wild card in all this was the very real possibility that, as my boss, she could have me traded to Winnipeg in a blink of an eye!
Remember the part about her being a marketing genius? This is where the genius comes into play. She suggests I emcee the event in….wait for it…a lobster suit!
At first, I irresponsibly and irrationally said, "Sure, what the hell.".
Then the reality began to set in along with a certain discomfort. I had no worry about serving as emcee but had some hesitation when it came to dressing as a crustacean. Now, I could have worn a suit and tie or a team sweater and pulled it off but I knew that wouldn't work. I wanted to wear the lobster suit! I needed to wear the lobster suit!
It was meant to be. I was meant to wear the suit the same way King Arthur was destined to bare the sword Excalibur after it was handed to him by the lady of the lake.
Many of you are likely thinking, "Strange women lying in ponds distributing swords is no basis for a system of government. Supreme executive power derives from a mandate from the masses, not from some farcical aquatic ceremony."
I agree and I admit that was borrowed from the movie, Monty Python and the Holy Grail.
It doesn't change the fact that the lobster suit and I were meant to be.
On event day, I was piped into the Civic Center Assembly Hall by the Ottawa Fire Department Pipe and Drum, and it was then that I knew somehow, someway, I would dedicate my energy toward presenting.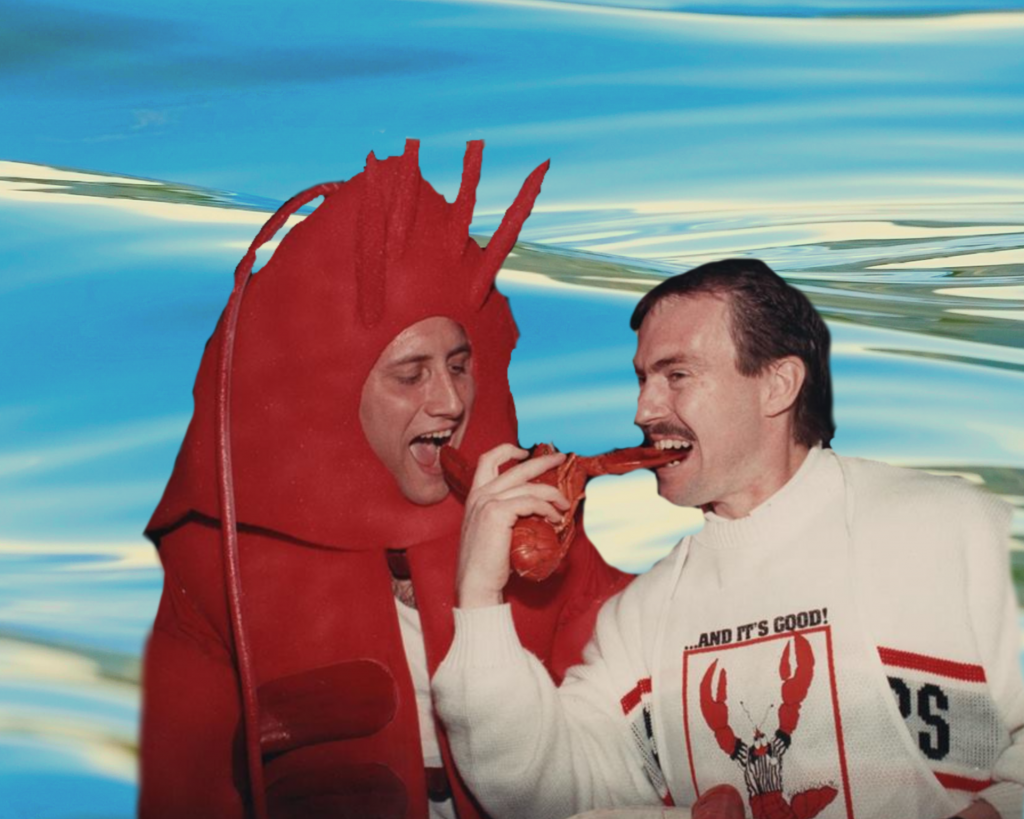 Rather than embarrassingly make my way to the podium on stage, I opted to walk in like I was the heavyweight champion of the world. I chose to own the room before I even entered it. I walked in selling the "I can't believe I am the only crustacean in the room! How lucky am I?"
Before I even said a word to the sold out audience, I knew I had won.
Initially, the suit was a tad uncomfortable but not from the perspective of fit but rather from the perspective of the experience being so new. Sure there were stares of astonishment from everyone in attendance, including teammates and my girlfriend at the time, followed by laughter.
Yet, any concerns that I had were soon outweighed by what the moment brought me. Sometimes you need to stand up when everyone is sitting down. Sometimes, just sometimes, you need to be your own crustacean! Stepping out from the comfort zone and out of what we have worn in the past may be just what the doctor ordered.
Having Jo-Anne there with a smile of affirmation certainly helped as well. It wasn't about the suit for her…it was about her confidence in me and seeing something beyond the football player. The power that comes with a combination of self determination and an authentic investment in a person is game changing!
Today, when I am not introducing, "There is an "i" in Team" concepts or tailoring client specific strategies, I am doing my best to help my children find the courage to wear their lobster suits and discard them after they have learned what they needed from them and move on to their next suit.
We are all going to spend our time doing something, so make sure it is something worth spending your time on. By doing so, you will find your "right place and right time".
Wearing that lobster suit opened doors to experiences that went beyond my ability to catch a football.
Find your lobster suit and head upstream like you were destined to wear it. 
——————————————
Ken Evraire is the owner | principal of TECTONIC TLC Team Lead Coach.
He is a quintessential team player who loves coaching, team building and talking leadership!  He is grateful for the opportunity to work with a roster of fantastic clients ranging from the government sector, not for profit agencies, start ups, Fortune 500 companies and elite sports teams.
He is father to 3 precocious children, has the best ex-wife in the world, is a former professional football player that has since donated his brain. He has run 3x marathons (Honolulu 2x + Barcelona), done stand up comedy and believes the old school coach was wrong…there is indeed an "i" in Team! 
Check Ken out on the following social media pages…
LinkedIn https://www.linkedin.com/in/ken-evraire-leadership/
Twitter https://twitter.com/Tectonic_tlc
Facebook https://www.facebook.com/tectonictlc